SENSORS FOR THE DETECTION OF THERMAL EVENTS
Pour ce projet les capteurs sont constitués de pièces métalliques de nature identique au matériau du moule dans lequel ils sont implantés. Ils sont débouchant à la paroi interne du moule pour une détection quasi-instantanée des phénomènes thermiques s'y produisant.
The measuring principle of these sensors is based on the modelling of the transient heat transfer within the sensor (resolution of the heat conduction equation) and the formulation of its associated inverse problem. The reverse problem is to reconstruct the density of heat flux received by the wall, the surface temperature of the wall, based on measurements of temperatures distant from it.
The heat exchange coefficient between the mould and the material is measured by a device comprising a sensor for measuring the heat flux density and the surface temperature of the mould, a pyrometric probe measuring the temperature of the material being processed and a post-processing software.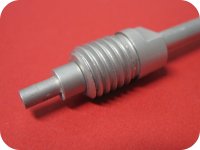 SENSOR
Thermal event detection sensor: application to blow molds