Neotim a conçu et fabrique en France plusieurs appareils de mesure de conductivité, diffusivité et effusivité thermique des matériaux.
Ces appareils utilisent différentes méthodes de caractérisation.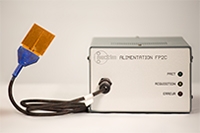 Appareil de mesure de la conductivité thermique par la méthode du fil chaud
Option diffusivimètre
Option effusivimètre
What is a thermal conductivity meter
A device for measuring thermal conductivity makes it possible to measure the efficiency of the thermal insulation of a material or its conductivity.
How our measuring devices work
We propose different measurement principles based on methods of thermal shock probes, transient, semi-permanent or permanent regime.
What are the benefits of our devices
Our devices are designed to meet the requirements of laboratories, industries and certification standards.
Ils sont fabriqués dans notre entreprise (fabricaition française certifiée).
Les interfaces utilisateur ont été pensées, simplfiées et optimisées pour faciliter leurs utilisations.