EXPLOITATION OF RESEARCH :
The probes we are developing are the result of research carried out jointly by the Ecole des Mines d'Albi-Carmaux and the Greth Grenoble.
PRINCIPLE OF MEASUREMENT :
The internal or external clogging of the pipe induces a change in the boundary conditions in the wall, resulting in a variation in the thermal exchanges that are detectable by this type of probe.
Our probes replace a conventional heat exchanger tube without creating pressure losses. They are intended to detect the presence of scaling in the case of water circulation or particulate fouling in the case of fumes (application perspective: biological fouling).
TWO DIFFERENT APPROACHES :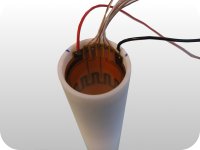 ACTIVE PROBE
This probe is equipped with a heating film to produce locally a thermal disturbance (excitation) and thermocouples to measure the response. This type of probe is sensitive to overall fouling that forms in the outer or inner wall of the tube.
Heating film positioned in one of the tubes of the probe.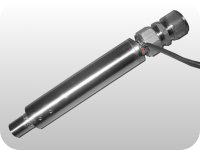 The active probe is suitable for water/air, air/air or water/water heat exchangers, especially for low temperature and heat exchange.
The passive probe is designed to determine the particulate fouling profile on its external surface by identifying the parietal conditions.
This type of probe is suitable for water/air cross-current heat exchangers for which heat exchanges are important.
Example of application of a passive probe for the determination of particulate fouling in a tubular exchanger in a collective boiler
POWER, CONDITIONING AND CONTROL SYSTEMS :

APC 8-way autonomous: Control up to 8 probes, integrated calculation
APC 1 way: Control of a probe, offset calculation in a PC